#SMBS12 Twitter Basics by @Josepf
Resource & Tips for Twitter Basics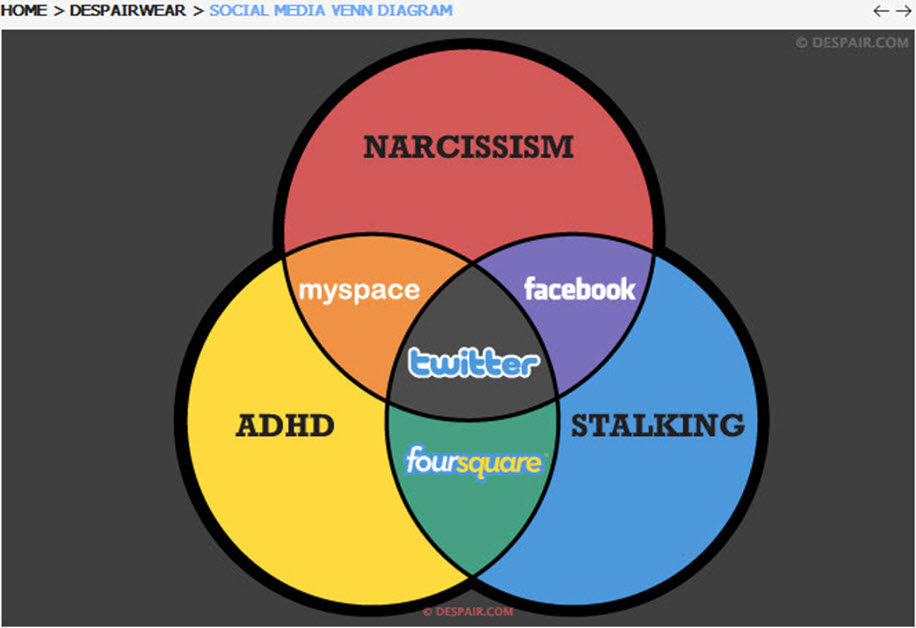 During networking conversations at the Buffalo, NY Social Media Business Summit Feb 15th & 16th, several people discussed with me how they either were not using Twitter yet or simply did not get Twitter! So here are some Twitter basics:
I used the diagram to the left to illustrate a humorous point of view on Social Media.  The fact, however, is that Twitter is a very powerful tool when used correctly!
Since people had various levels of experience with Twitter I'm posting various levels of Pro tips here for people to check-out.
Social Media is, um, Social!
The key to Social Media is to lead with the old adage of "Be a friend, make a friend, bring that friend to (your community) ((in the South they'd say "Jesus")). Study after study shows that basic contact and social grooming (hellos, virtual coffee shares, RT or retweets) are critical to success. There are also some things to flat out avoid. I wrote a 12most post called "Irritating to most people I know on Twitter" <– click for information on behaviors to avoid!
Social Media is about Relationships
You can make real, deep, significant relationships through Social Media! My personal story attests to this. I'm working for people I met on Social Media. I'm living with the love of my life whom I met on Social Media. All of my clients have come to me through Social Media! Here is a #140Conf presentation, short video on why Social Media is Personal Relationship Media. I'd advise you to start here, with relationship building, and then worry about Marketing through Social Media.
To Understand Marketing go Medieval!
While we're talking marketing… There are so many misconception about marketing that I felt compelled to write a post called "Medieval Marketing: master the basic marketing concepts before Social Media". Please, please, please, do not jump willy nilly into Social Media to do marketing without a plan…
How does one use Twitter then?
The best way to learn Twitter is to join a Chat or two. Here is a publicly curated spreadsheet of Twitter chats. By last count there were a little over 600 scheduled Twitter chats. Twitter chats all revolve around a Hashtag. Using hashtags is the single most effective way to use Twitter, period. When I crossed the 2,000 or so follower mark I was struggling with why people were following me. My interests are and were very diverse, and someone who followed me for Poetry would not like SEO posts for example. I wrote "Please stop following me on Twitter" to help educate people on more effective ways to use Tools and Hashtags.
Of course, one of the fast track ways to learn anything is to find a good mentor :). If you want, Tweet me here @Josepf, I'm always willing to take a question or two. Who knows, you might even inspire my next Blog Post or Video.
Get Social or Die : Final Presentation
Was so much fun meeting many of you and presenting. Have posted links to deep dive article, a copy of the slideshare, and a customized video of the complete presentation on the DragonSearch Blog. Please feel free to comment and ask questions!
Tags: seo, social media, Twitter